The School of Athens by Raphael Sanzio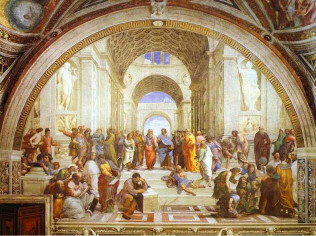 The School of Athens
by Raphael Sanzio, 1509
Fresco, width at the base 770 cm
Stanza della Segnatura, Palazzi Pontifici, Vatican
Click here to see our fine art reproductions.
The School of Athens by Raphael Sanzio is a fresco painting decorating the private library of the pope, the Stanza della Segnatura, in the Vatican palace in Rome. The School of Athens by Raphael depicts the concept of philosophy. Raphael, influrenced by the current Neoplatonism of the time, depicts classically attired figures representing famous philosophers. They inhabit a magnificent grisaille architectural wonder with a scene which is meant to take place in antiquity.
Centered in the composition and striding through a series of illustionistic arches are the philosophers Plato and Aristotle engaged in a lively dialogue on the source of wisdom or truth. Plato, Aristotle's teacher, points to the sky, arguing that wisdom comes from above, divinely inspired. Aristotle motions to the earth indicating that wisdom comes from empirical observation. Small groups of thinkers flank the central figures while others are scattered about, some sprawled on the floor. In The School of Athens by Raphael, they seem to be debating their various philosophies in the search for truth.
The architecture in The School of Athens by Raphael is reminiscent of Italian Renaissance architect Donato Bramante's plan for the new St. Peters, architecture inspired by grandiose Roman architecture. Bramante was Raphael Sanzio's cousin, so it is no surprise that Raphael pays tribute to his famous family relation. The figures exist naturally within the illusionistic structure.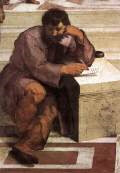 Seated Figure of Michelangelo
Detail from The School of Athens by Raphael

Of particular interest is the foreground figure which is a portrait of Italian Renaissance artist, Michelangelo Buonarroti, who leans on a marble block. Michelangelo controlled strict access to his unfinished work in the Sistine Chapel, but it has been suggested that Raphael Sanzio was secretly allowed to visit the wondrous paintings there contemporaneously in progress with his own. Raphael then returned to remove a section of painted fresco, and replaced it with the figure of Michelangelo lounging on his block. Michelangelo always claimed that he was not a painter, but a sculptor. It is obvious that Raphael admired Michelangelo, and The School of Athens by Raphael pays open tribute to the master Michelangelo, his greatest competitor.



Brenda Harness, Art Historian