The Medici Tombs of Michelangelo in the New Sacristy of San Lorenzo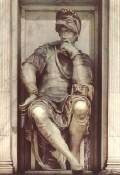 Michelangelo carved the Medici Tombs and was appointed Medici project chief architect, designing the New Sacristy Chapel of the Church of San Lorenzo in Florence which contains the Medici Tombs. The Medici Tombs and Chapel were commissioned by Medici Pope Leo X upon his accession to the papacy to house his family remains. Interred in the Medici Tombs were Leo's father, Lorenzo the Magnificent, Lorenzo's brother Giuliano, slain in the Pazzi Conspiracy, and Lorenzo's grandsons, also named Lorenzo and Giuliano, Dukes of Urbino and Nemours.
The tombs of Lorenzo de' Medici (Il Magnifico) and his brother were never built, but their remains lie within the family's ancestral tomb, centrally located. Flanking the ancestral tomb are the Medici Tombs of Lorenzo's grandsons which are so familiar to us today.
Brenda Harness, Art Historian