Da Vinci's Vitruvian Man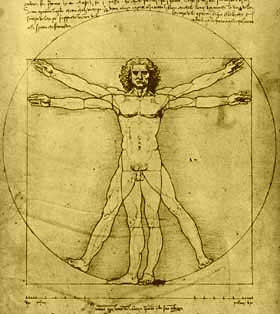 Da Vinci's Vitruvian Man
Pen & ink on loose leaf linen paper, ca.1492

Click hereto see our fine art reproductions.

Leonardo da Vinci's Vitruvian Man drawing was made around the year 1492. Leonardo drew a standing nude male figure with legs and arms apart within an inscribed circle and a square. Da Vinci's Vitruvian Man was found in one of da Vinci's notebook pages along with notes by the artist. Often referred to as the Canon of Proportion or Proportions of Man, da Vinci's Vitruvian Man can be found in Venice, Italy in the Gallerie dell' Accademia.


Da Vinci's Vitruvian Man was inspired by the Roman architect and engineer, Marcus Vitruvius Pollio (ca 75 -25 BC). In his famous book De architectura, Vitruvius proposed a concept that architecture should imitate nature in the construction of housing by using natural materials which were beautiful, durable and useful. He asserted that the invention of the Greek classical architectural orders, Doric, Ionic, and Corinthian, were developed to give the architecture of man a sense of proportion. Then, he further correlated this concept of proportion to the proportions of the human body, nature's greatest work. Taking his inspiration from the writings of Vitruvius, Da Vinci's Vitruvian Man superbly illustrates Leonardo's interest in human proportion--Vitruvian theory transferred to art on paper.
Da Vinci's Vitruvian Man notes written in his "mirror writing"
The notes for da Vinci's Vitruvian Man were written in Leonardo's unique "mirror writing" technique. They document Leonardo's interpretation of the thoughts of Vitruvius about the proportions of the male human body expressed in ratios. Italian Renaissance art was very much influenced by the ancient Greeks classical style in depicting the beauty of the ideal human figure. Da Vinci's Vitruvian Man is actually a more accurate representation of the human body than the description offered by Vitruvius.
Brenda Harness, Art Historian
BULLETED SUB-PAGE LINKS
WITH DESCRIPTIONS