David by Michelangelo | Hero in Stone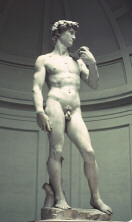 David
by Michelangelo Buronarroti
1504, marble
Accademia Gallery
Florence, Italy

Click here to buy
a fine art reproduction of
David by Michelangelo.

The Italian Renaissance sculpture of David by Michelangelo looms over the town square in the city of Florence like a sentinel, larger than life. This monumental marble statue of David by Michelangelo was instantly adopted by the Florentine people as a symbol of the republic. Statues of David by other artists like Verrocchio and Donatello usually depict David holding the head of Goliath following the epic battle, however, Michelangelo's David is depicted in a watchful, pensive mood as he

mentally prepares himself for the confrontation.





David by Michelangelo was the culmination of a long term project begun in 1464 by the Overseers of the Duomo's Office of Works to produce twelve large sculptures of Old Testament figures for the Cathedral of Santa Maria del Fiore. Donatello and Agostino di Duccio, his assistant, completed two by 1464, but work ceased following the death of Donatello in 1466. Agostino had already started work on the great marble block, but Antonio Rossellino was assigned to take his place. For reasons unknown, Rossellino was unable to complete the work, and the stone was left in the cathedral workshop for 25 years until 1500 when the Overseers began to look for someone to finish it. While other artists including Leonardo da Vinci looked at the stone, but the Overseers were convinced by Michelangelo that he could complete the work on David from the stone which was said to be badly blocked out by previous attempts.
Michelangelo by then was only twenty-six years old when he began work on David in 1501.
David by Michelangelo took just over three years to complete, finishing in 1504. Today a 1910 replica of David by Michelangelo can be seen in the Florentine town square, the Piazza della Signoria, by visitors. The original sculpture of David by Michelangelo was moved in 1873 to the Accademia Gallery in Florence to protect it from the elements. It was attacked by a hammer-wielding vandal in 1991 causing damage to the toes of the left foot. The sculpture of David by Michelangelo remains one of the most popular tourist attractions in the world.
Brenda Harness, Art Historian