The Pietà by Michelangelo, | A Study of Redemption Through Suffering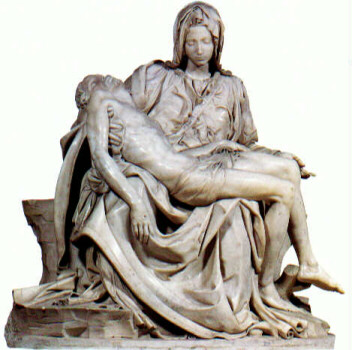 The Pietà
Michelangelo Buonarroti
1499, marble, height 174 cm,
width at the base 195 cm
Basilica di San Pietro, Vatican
Click here to buy
our fine art reproductions
The Pieta by Michelangelo is a study in redemption through suffering, a common theme in Italian Renaissance art. The word 'pieta' means pity and the viewer of The Pieta by
Michelangelo is invited to join in the sorrow of the Virgin as she mourns her dead son. In 1498 Michelangelo was 22 years old by the time he contracted with a French
cardinal to create a pieta for St. Peter's Basilica which he finished around 1499.
The youthful Virgin and the body of Christ which she supports on her lap are convincingly modelled by Michelangelo in The Pieta, known to have had a strong interest in anatomy. The Pieta by Michelangelo, a work of the High Renaissance, was criticized by his detractors who thought the Virgin appeared too young.
Neither does Michelangelo depict Christ in the manner which one might expect of one recently crucified in The Pieta, but relatively unscathed by the ordeal of his traumatic manner of death. The Pieta by Michelangelo shows a Virgin, whose calm, serene dignity in life is echoed by the same qualities in the face of Christ, intended to elicit empathy from the viewer.
The Pieta by Michelangelo is signed by the artist on a sash across the chest of the Virgin. Michelangelo is reported to have overheard a discussion by Vatican visitors crediting The Pieta to the hand of another artist. After dark, he secretly entered the Vatican and carved his signature into the Virgin's sash with the words: "Angelus Bonarotus Florentinus Faciebat" or "This was made by Florentine Michelangelo Buonarroti."
Brenda Harness, Art Historian